The Mystic River Watershed Association's annual meeting was a nice mix of socializing, an interactive showcase of programs, and a brief program that included the election of board members, financial report, keynote from Patrick Herron, Executive Director, and volunteer recognition and community awards.
It was a full house—and it was a great opportunity to thank our supporters for their efforts to protect and restore the Mystic River. By working together—there will be even greater successes for the future.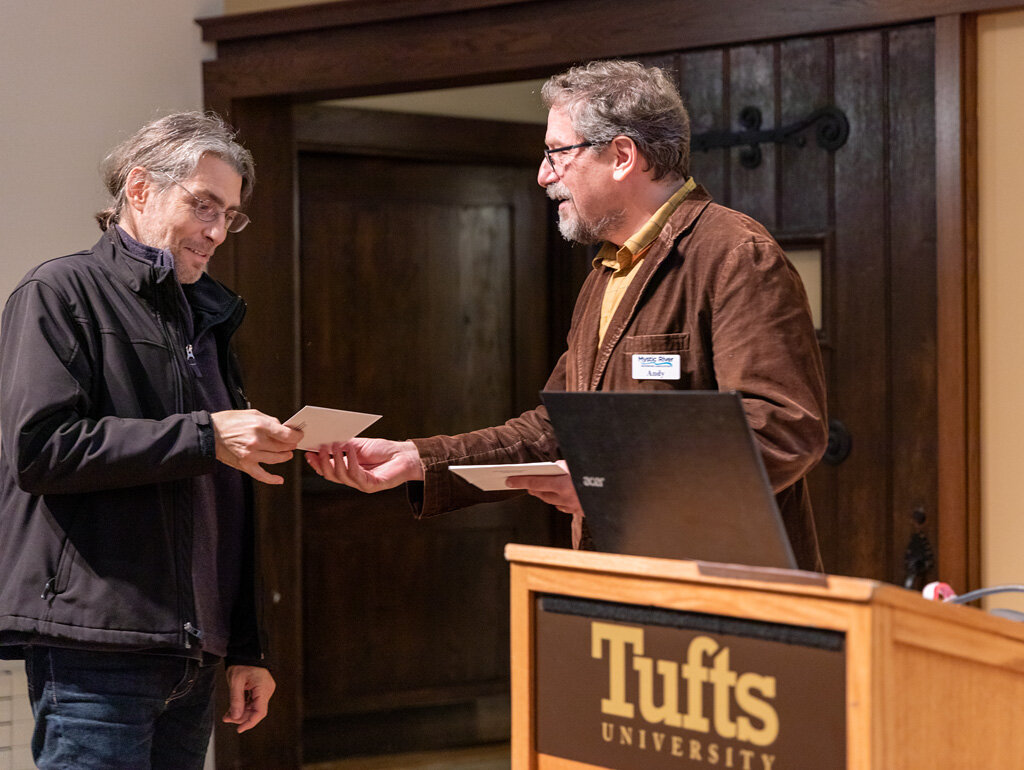 AWARDS
Mayor Gary Christenson, Mayor of Malden - Mystic Municipal Awardee
For his outstanding contribution to the Malden River including his support of the Malden River Vision Plan, Human Health Risk Assessment, and his enthusiastic support of "Malden Works!" Over the years the mayor has attended countless public meetings, ribbon cuttings and groundbreakings. And at the end of every meeting we have with him, he asks "what can I do to help?" While these aren't easy problems to solve, having a local leader who listens to individuals and community groups - like Friends of the Malden River – is a critical ingredient.
Encore Boston Harbor - Mystic Champion Awardee
In recognition of the $70M clean up of their site along the Mystic, their financial generosity to MyRWA and the involvement of their staff in stewardship events along the river. Any time a business moves to the side of our river--we always knock on their door to introduce ourselves and find out how we can work together to care for our river. We were lucky when we knocked on Encores door--as they have brought the trifecta giving generously of their time and dollars to MyRWA while also remediating an old contaminated site and building a living shoreline along the Mystic.
Julie Berkman - Volunteer of the Year
For her work monitoring water quality, herring and eel, as well as her involvement in water chestnut removal events and outreach into the community since 2015. Julie supports MyRWA in other ways by attending public meetings for the Malden & Mystic River Greenways, helping our educator with school programs at the dam, picking up coffee and donuts each year for the Herring Run and Paddle (to the great appreciation of staff and other volunteers!), and tabling at countless community events—even once, by herself, on the hottest day of the summer this year.
Katie Theoharides, EOEEA Secretary - Ripple Awardee
For her leadership in establishing the Municipal Vulnerability Preparedness (MVP) program and merging the State Hazard Mitigation and Climate Adaptation Plans, which is already making a difference across the Commonwealth. The Ripple Award celebrates the work of an individual that ripples out to and impacts the larger community, watershed and beyond. We can safely say that the efforts of Katie to strengthen Massachusetts approach to dealing with climate resilience will have lasting and rippling effects for our watershed.
WATER QUALITY MONITORS
Our baseline water quality monitors are the folks who go out every month at 6 in the morning to collect samples for us, in all weather and all year long. Because of these volunteers, we have a really valuable 20-year data set on conditions in the Mystic River Watershed. The EPA water quality report card comes out of this work. It's public knowledge that would not exist if volunteers didn't contribute their time every month. As such we recognize these donors who have given 5 and then 10 years of service –as listed below:
5-Year Volunteers
Daria Alladio
Susan Brown
10-Year Volunteers
Emily Cole
John Roland Elliott
Michael Fager
Michael Moros
Vaso Tsakraklides
Photo Credit: David Mussina
NEWLY ELECTED BOARD MEMBERS
Shannon Ames, Executive Director of the Low Impact Hydropower Institute (LIHI) and community member in Arlington. This is Shannon's second term.
Nasser Brahim is a Senior Planner and Climate Change Practice Lead at Kleinfelder, a multidisciplinary engineering and design firm in Boston.
Meera Deean is an urban designer with more than a decade of experience, and currently she is a Senior Architect/Urban Designer at the Boston Planning and Development Agency.
Rose Fennell has been the Deputy Regional Director for the Northeast Region of the National Park Service since January 2016, and lives in Charlestown.
Erik Hansen serves as the Chief Sustainability Officer at Wynn Resorts, where he leads the development of the global sustainability strategy and energy procurement goals for the company.
Mark Jacobson is a resident of Lexington and General Manager of Charles River Recreation, which operates boat rental locations on the Mystic and Charles River. He is rejoining the board after a year hiatus.
Rick Olick can be found regularly on the banks of the Mystic River, Horn Pond or the Mystic Lakes photographing the spectacular wildlife. Formerly, Rick was a federal attorney, Federal administrative judge, a trainer in mediation and conciliation techniques and Directing Attorney at a non-profit organization serving refugees and immigrants.
Mark Rodgers has been working locally in the energy communications field for twenty years, and is currently the Communications Manager at Exelon Generation, which owns and operates two energy facilities along the Mystic River in Everett.
Joshua Weinberg is Senior Special Counsel in the Analytics Office's Industry Specialist Unit in the U.S. Securities and Exchange Commission (SEC), and lives with his family in Arlington.
The new board members will be joining the following current board members: Caroline Broderick, David Burson, Larry Feldman, Barbara Kessner Landau, Karl Touet, and Minka vanBeuzekom. Read more about our board members here.